As a homeowner in Toronto, you know that lowering your basement floor will make additional living space and give you freedom from claustrophobia. The process of digging deeper beneath the footings of your home is referred to as underpinning. The next step involved is digging the floors deeper without undermining the support of your basement's foundation walls. Thereby providing your low ceiling and awkward-looking basement a new life. It allows you to expand into a more livable space.
Our Happy Clients
Great service and communication. No more basement leaks .
José Ocione
QAB is the company you can trust. On time,clean, responsible, professional, stress free.
Special thanks for Dima for your cooperation and knowledge.
Iruna Syrnyk
After getting a few quotes, we decided on Quality Age Build because of a trusted friend's recommendation. I was impressed by the professionalism throughout the process. The quotation process was thorough and went through the waterproofing process in detail. The job was done in a timely matter and the job was fully completed without any loose ends. I will definitely be contacting them in the future for further services. Thank you
Anne Kobayashi
Super organized and well-experienced team. All work was done within a discussed time frame with no delays. Reasonable price given and high quality of work provided by responsible professionals. The site was completely cleaned at the end. BIG THANKS TO QUALITY AGE BUILD!!!
Ira Vilkhin
Underpinning is very helpful as a remedy to any damage that may be caused to your property's foundation or structure. It addresses the following issues:
One of the major faults is due to subsidence that happens due to mining or pumping activities. Underpinning is your solution when you want to strengthen your building's structure and provide it with much-needed additional support in case of loss of its original strength.

In a case when your home's foundation, at the time of pouring, was not reinforced with rebars, it could be prone to side effects posed by the weight of your home. It could easily lead to movement or settling. Our underpinning services in Toronto can prevent the risk of occurrence of any of these issues.
Underpinning requires a complete survey of the condition of the foundation of your home. Once the preliminary study is concluded, the next step is an expert recommendation that will help restore your home's lifespan. Upon receipt of planning permissions, work can be executed to bolster the structural integrity of the house.
Why to Work With Us
Over 5,000 Waterproofing Projects
We are top-rated waterproofing contractor with over 5,000 foundations repaired and waterproofed in Toronto and GTA
Waterproofing Warranty
We provide 30 years transferable warranty for both internal and external waterproofing services
Highest Quality Guaranteed
We provide fast, reliable and high quality services anywhere in the GTA.

10 years of Experience
Our highly skilled technicians have over 10 years of experience.
Which conditions necessitate underpinning?
Subsidence is a significant worry for any homeowner in Toronto. With so much construction activity going on almost around the year, your fears are apparent. Your home's foundation withers so many natural and man-made attacks. Underpinning helps reinforce its foundation and keep it livable for years to come. It is exceptionally effective in regaining the lost strength. It is also helpful in strengthening the existing foundation of your building in a case where you intend to have an additional story. The aging of a house directly impacts its foundation, which in some cases, can lead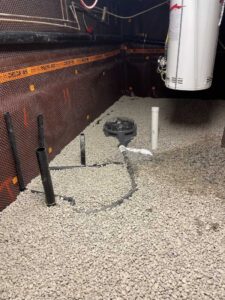 to the deterioration of the value of your home property. You could observe the following signs that call for underpinning  contractor in Toronto:
Diagonal cracks appearing in your walls

Walls are buckling (change of shape or deforming)

A separation in the roofline

Floors becoming uneven

Jammed doors

subsidence of foundation

Damage to drains or drainage issues
Quality Age Build has a team of seasoned underpinning contractors in Toronto who can provide expert solutions to ensure your home's foundation stability. Our exceptional service delivered at affordable prices has helped us build a trustworthy name among our clients in our area. We are known for providing professional basement underpinning in Toronto since more than 10 years.
The need for underpinning can also arise from damage from tree roots, stormwater drainage issues, leakage of sewer, cold or hot weather changes, and errors in building design. Our underpinning services provide your home with a super solid foundation that can support your home for years to come. We are fully dedicated to helping address issues related to the integral structure and stability of your home's foundation. Our professional team can handle your requirement for underpinning services in a timely and professional manner.
Services that we offer
Waterproofing
Underpinning
Excavation
Dumpster Rental
BackWater Valve
Concrete Slab
Basement waterproofing involves the application of many different materials and sealants and the installation of drains to collect, redirect, or remove water away from the basement.
Wet basements are typically caused by groundwater swelling, condensation and runoff. To combat this, there are multiple different solutions ranging from using a dehumidifier to installing a perimeter drain system and our team capable to do this job
Interior Waterproofing
Exterior Waterproofing
Sump Pump Installation
Renovating your basement for various reasons is essential to achieve more space and create an extra room such as a playroom, study room or a small theater for family movie night. Whatever your reasons are, basement underpinning is one of the basement renovations Toronto that will also help add value to your home.
Weak foundations can be attributed to a pest infestation, leakages or weak structural faults caused by shifting earth or floods. To counteract the weakened foundation, you can consider underpinning as a preventive measure to keep your building strong and standing.
Basement Underpinning
Bench Footings
Basement Lowering
Quality Age Build provides a professional excavating services for new home addition in Toronto and GTA region. With 25 years of experience and the latest technology on hand, we provide our clients with high quality and cost effective excavation services.
Our top priority is safety, project excellence and commitment to ensure each project is completed on time and within budget.
Residential
Commercial
Small industrial
New Home Addition
Dumpster Bin Rental in Mississauga and GTA
Instead of storing all that junk in your already crowded garage, slowly reducing it week after week, just call us. We at Quality Age Build are more than happy to come by with one of our dumpster bins and let you fill it up with all the junk you don't want. After you've gotten rid of all your unwanted trash, we'll haul it away for you. Simple as that.
Whether you're moving to a new house, doing renovations, or simply ditching long-forgotten hobby materials that have been collecting dust for years, our dumpster bins will serve your needs.
Flеxіbіlіtу
Cоmреtеnсе
Rеѕultѕ
Vаluе fоr mоnеу
High ѕрееd
Whenever there's a sudden downpour, there's a risk that your basement could experience a water backup problem. It's bad enough if clean rainwater backs up in your basement, but try to imagine dirty sewage filling your basement, ruining everything it touches. Fortunately, you can help prevent this by installing a backwater valve.
You'll need a backwater valve installation Toronto expert. This is where Quality Age Build comes in!
Indoors installation
Outdoor installation
Adapt-a-valve installation
BackWater valve repair
Waterproofing of the under-slab can be as critical to the success of weatherproofing a building as waterproofing below-grade walls. This often-overlooked component has led to a tremendous amount of damage through moisture entry in both liquid and vapor form. Moisture enters the concrete slab at all of the usual suspected areas, such as openings, joints, penetrations and cracks that form over time.
We provide professional work in a timely manner across the GTA with the best prices guaranteed.
Prep excavation
Concrete work
Professional and quick